Breathe new life to your old computer. Here's a not-so-secret, no-frills place to get your old Mac/PC laptops and desktops repaired.
Apple is notorious for having strict unaccommodating and ridiculous after-sales service. But finding out about this repair shop gave my old 15-inch 2013 Macbook pro new life. Extending my almost 100k investment almost ten years ago to another 3-5 years give or take.
But before I tell you where it is, let me tell you how utterly stupid and garbage Apple resellers are here in the Philippines. Most of the resellers here, which you'll find in the posh places around BGC and Makati, will not serve you for discontinued models. WHAT A WASTE OF TIME TO EVEN TALK TO THESE PEOPLE. A perfectly good laptop is now seemingly useless because of planned obsolescence.
Some big Apple distributors are shit!
Because the Philippines has a weak-ass government, things like the 'Right to Repair' fall through the cracks, and most conversations that revolve around consumer rights are ignored for more "pressing issues" like that fucking Dolomite Beach or—in the age of eCommerce IoT and the 4IR— building government-owned malls to address the economic crisis of MSMEs caused by the poor, slow lame-duck leadership of the Duterte administration.
In America, the government has the cojones to regulate big corporations and businesses. Turning companies like Facebook (Now Meta) on their asses for exploiting their users and fining them for data breaches. Stricter countries like Australia were able to help consumers chase, big violators. Read here how Apple was fined because of the Right-to-Repair in Australia. In the Philippines, the government can't even chase SMS phishing scammers and billion peso tax evaders like the Marcoses.
Reliable Services Unmatched
I've gone to many other repair shops in the past. When my 2013 15-inch MacBook battery and speakers died in 2016, I went to a place somewhere in Quezon City just to have them replaced. Imagine the traffic I had to weave through. There were no expressways yet that cuts to the Quezon Ave/Scout Rallos area from Makati. Then I found out about Senco Link here in Salcedo Street, Legazpi Village. I had accompanied a friend who needed a unit repaired. With my battery and speakers due for replacement I went to Senco Link this 2022 to check if the repair for my unit was even possible. Unfortunately, they too are not able to repair a decade-old laptop due to Apple limitations in supplying old parts.
Luckily I saw an ad that led me to a reliable repair service. I messaged their page and they immediately replied to me, asking for the model number of my unit. They gave specific instructions on where to find it. It's basically on the underside of the laptop.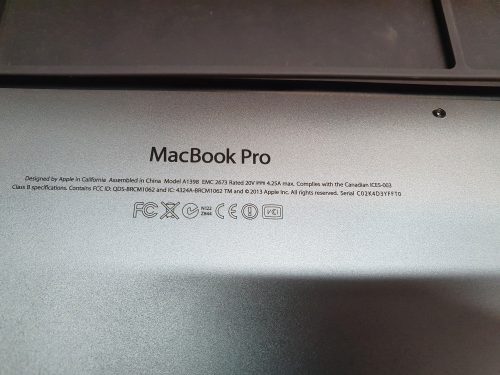 Bless these hardworking people who provide essential niche services like MFCE IT Solutions. On a sunny Saturday, tucked away in a street somewhere in Mandaluyong I met the owner Marvin De Guzman, a well-mannered, and very friendly IT professional. Other than fixing Macbooks and PCs for a living—so yes he can fix you up a gaming PC—he also offers CCTV installation and other IT hardware setup and maintenance services for homes and offices. A short drive from Rockwell Powerplant and I found myself in the compound of MFCE where the staff kindly assisted me towards their little repair shop on the second floor.

Battery, Speaker, Drive reformat, and OSX updated
Trust, expertise, and professionalism, I guess are the brand ethos for a small business like MFCE.
They took my unit, opened it up, cleaned it, and had me put stickers and sign parts with a pencil. The stickers were there to assure that no parts would be stolen or intentionally replaced, as some more nefarious enterprising individuals from Greenhills might do.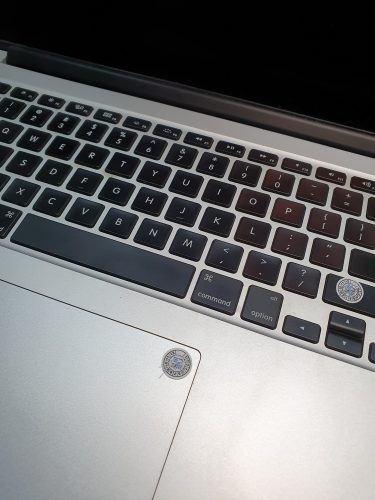 Trust, expertise and professionalism I guess are the brand ethos for a small business owner like MFCE. From the way they conducted their business, these were the good guys. They answered all my questions and even offered to install applications I'll lose because I also requested to have my OSX updated and drive reformatted. They also recommended I stay away from the Macbook M1s as I mentioned I was planning to replace my unit eventually. But they discouraged it. Most units they were repairing, were Macbook M1s. Just better wait for the M2 they said.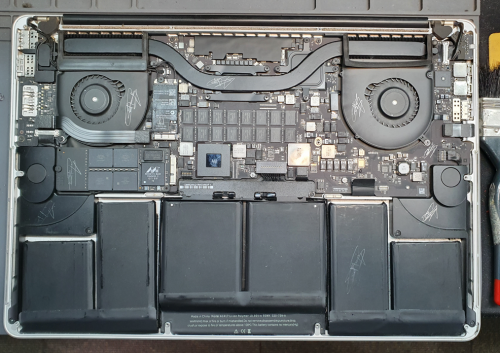 My battery and speaker were to be removed over the weekend. Replacement parts are most likely sourced from a China OEM for Apple parts. The battery won't be like the original of course, with roughly 4 hours of heavy work time. Enough for a remote meeting. If this gives your Macbook a new lease in life, the value of paying less than 10K for another 4-5 years? It's definitely justifiable to just have it repaired.
I got my unit delivered by Tuesday. FOR FREE! It was supposed to be shipped by Monday but due to some logistic issue, they just decided to send it the next day. Technically one day of turnaround time! Saturday, Monday sans Sunday. Something I'm sure the official Apple service centers can't do and compete with. This for me was pretty convenient! The unit arrived and worked great! New OS installed with all the bells and whistles.
I recommended the service to a relative of mine, a discerning top executive, and she was very much impressed!
You can find out more about

Spread the love