[tatsu_section bg_color= "" bg_image= "" bg_repeat= "no-repeat" bg_attachment= "scroll" bg_position= "top left" bg_size= "cover" bg_animation= "none" padding= "15px 0px 15px 0px" margin= "0px 0px 0px 0px" border= "0px 0px 0px 0px" border_color= "" bg_video= "0" bg_video_mp4_src= "" bg_video_ogg_src= "" bg_video_webm_src= "" bg_overlay= "0" overlay_color= "" full_screen= "0" section_id= "" section_class= "" section_title= "" offset_section= "" offset_value= "0" full_screen_header_scheme= "background–dark" hide_in= "0" key= "fsb3f54fu63up6g5"][tatsu_row full_width= "0" no_margin_bottom= "0" equal_height_columns= "0" gutter= "medium" column_spacing= "" fullscreen_cols= "0" swap_cols= "0" row_id= "" row_class= "" hide_in= "0" layout= "1/1" key= "fsb3f54fw1gig0au"][tatsu_column bg_color= "" bg_image= "" bg_repeat= "no-repeat" bg_attachment= "scroll" bg_position= "top left" bg_size= "cover" padding= "0px 0px 0px 0px" custom_margin= "0" margin= "0px 0px 0px 0px" border= "0px 0px 0px 0px" border_color= "" enable_box_shadow= "0" box_shadow_custom= "0 0 15px 0 rgba(198,202,202,0.4)" bg_video= "0" bg_video_mp4_src= "" bg_video_ogg_src= "" bg_video_webm_src= "" bg_overlay= "0" overlay_color= "" animate_overlay= "none" link_overlay= "" vertical_align= "none" column_offset= "0" offset= "0px 0px" z_index= "0" column_parallax= "0" animate= "0" animation_type= "fadeIn" animation_delay= "0" col_id= "" column_class= "" hide_in= "0" layout= "1/1" key= "fsb3f54fwv3u02od"][tatsu_text max_width= "100" wrap_alignment= "center" animate= "" animation_type= "fadeIn" animation_delay= "0" key= "fsb3f54fy63vl40x"]
FINALLY the time has come!
I've quit my 4 year stint in publishing and have decided to become my own boss. I took it upon myself to hit the final nail in the coffin and bury the freelancer's dilemma: How to register as a freelancer in the Philippines. I refuse to pay people  make someone "palakad my papeles."
My knowledge from school won't help; THANKS DEP-ED/CHED for not including adulting classes. Even Jesus can't save me now. So I've turned to the internet!
I've encountered too many photographers, graphic designers and general creatives who refuse to register, confused or are just freaked out by the whole ordeal–well some of them just don't want to pay taxes, YIKES–and I can't blame them.  It's like everyone's being left out because there isn't enough information circulating when it comes to registering as a freelancer plus we all know how corrupt and shitty the government can be. I dedicated the whole month of May 2018 to do my research and register as a freelancer. Lets go through the whole experience.
I started by doing some research on Google.
Most articles talk about registering at DTI, getting the mayor's permit and applying at BIR. This is the standard procedure. So I called BIR and asked them the proper process of registering for an official receipt. A guy answered and told me to just submit the following stuff I found on Google.  I caved and followed it so I registered my trade name at DTI and went over to the barangay to get a clearance.
I finished and received my DTI permit and barangay clearance in two days.
The next step was to go to Makati city hall to get the mayor's permit. I  talked to the business registration counter but before getting processed they told me to go all the way to the old building to get a locational clearance. That means I have to eventually pay for things I don't need like sanitary permits, fire code stuff, and like you have to pay 12.50sq/meter for the locational clearance. I realized that the whole process was ridiculous because I didn't have an actual office space to declare and I felt like the whole thing was rigged to take money away from me. NO THANKS! I REFUSE TO PAY FOR UNESSENTIALS AND MULTIPLE GOVERNMENT PERMITS I DON'T NEED.
So I  went all the way to BIR Makati to get a list of requirements.
They handed me this.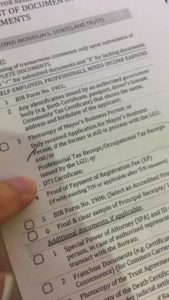 I saw the options and started asking people online on how to register as a professional and verifying that with my own personal experience. There were so many conflicting opinions.
YOU NEED LGU PERMIT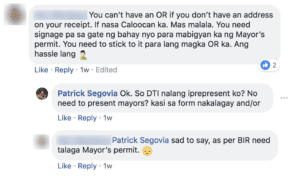 NO NEED FOR LGU PERMIT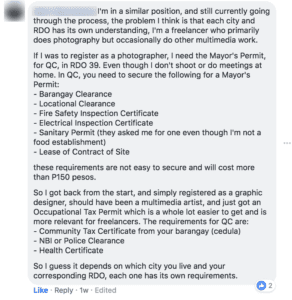 I wasn't having any of it.
I turned to Google again.
Sadly there aren't enough articles that talk about freelancers BUT I found this website.
https://www.wfhr.io/bir-tax-registration-guide-for-freelancers-and-online-professionals/
The blog revealed a solution by registering as a professional.  Finally a facebook friend messaged me how he just registered himself as a professional. Thanks at Paelo! All you have to do is submit an OTR (Occupational Tax Receipt)?? or PTR (Professional Tax Receipt)??
Theres a list that summarizes where you fall under.
https://psa.gov.ph/sites/default/files/4publication.pdf
Multimedia Artist is under 3131. THAT'S ME!
So I called Makati city hall and asked if they issued the OTR/PTR.
THEY DON'T.
The level of frustration. I SWEAR.
I called BIR again and asked if there's a way to register as a professional. A lady answered at my RDO. Her name was Tina and I explained everything from registering DTI and all that shebang. Bless her patience!
She enumerated all the things I needed to show her since I can't give an OTR.
Government issued ID's or NSO Birth certificate. Basically any document that proves you're a real person
A contract from a company or business that proves you really are indeed a professional (instead of an OTR or DTI/Mayors Permit)
BIR Form 1901 (Select Professional in General)
Proof of payment of Registration fee (RF)
FINALLY I'M GOING PLACES
REMEMBER TO PHOTOCOPY ALL OF THESE REQUIREMENTS.
Like 3.4.5.6.7.8 times just to be sure.
OFF TO BIR I GO
I submitted everything, paid my registration fee at RCBC Makati (an accredited bank), and gave Tina my all my documents.
She told me to comeback the next day and she'll have everything done.
BTW attend the short seminar/talk.
They offer it at my RDO every 2PM Fridays. Its just in a conference room with some guy who can answer all of your BIR/accounting related inquiries.
True enough I came back the next day (Friday) and all my documents were ready for the next step.
All I had to do now was have my ATP (Authority to print) done so I can issue official receipts. So after photocopying the documents she gave me, she passed me on to the ATP guy just beside her.
The guy processed my papers and I was off to the "officer of the day" to pick which Tax Type under the new Train Law I'm going to apply for as a NON-VAT TAXPAYER (since I'm below the 1 million something earnings).
OPTION 1: PERCENTAGE TAX AND INCOME TAX
Percentage Tax 3% on Gross Sales/Gross Receipts for the quarter
Income Tax Use graduated income tax table on Net Taxable Income
OPTION 2: INCOME TAX ONLY
8% on Gross Sales/Gross Receipts for the quarter in lieu of Income Tax and Percentage Tax
I asked for advice from an accountant and my dad and they suggested I go with OPTION 2 because it's easier to manage. The officer of the day pointed out the same option and applied me under professional/occupational code 7494 Photographic Activities. The BIR system was not updated for the Multimedia Artist code so she just put me under the activity I'll be doing most.
There are a few things you have to understand. You are in a sense a business but you're going to register as a professional instead of using a trade name. If you're hiring employees then you'll have to definitely register as a trade name and sign up for all those LGU permits. Here's the formula
Professional service based = BIR
Sole-prop business = BIR + DTI(or SEC) + LGU + Other units like BFAD if you're in the business of food, cosmetics or drugs
And that's it!
All I have to do now is wait for some two weeks to get my official receipts!
I'll update you guys if anything comes up but for now, Imma get them projects rolling!
READ PART 2 discussing Books of Account and ATP (Authority to print receipts)
https://www.patricksegovia.com/2018/06/14/happens-get-certificate-registration-bir-plus-tips-get-hell-part-2-register-freelancer/
Featured Image by rawpixel on Unsplash
Reach me through my contact page, facebook page or comment for any questions.
Don't forget to follow me on Instagram! @patricksegovia  and subscribe to my newsletter!
[/tatsu_text][/tatsu_column][/tatsu_row][/tatsu_section]