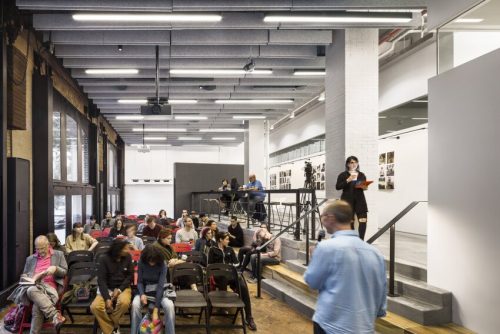 Smoke and Mirrors. Photoshop & Lightroom.
In 2017 I visited the School of Visual Arts in New York, to see if their Graduate program in photography was any good. I talked to a few professors and some students. Student life revolved around a bunch of New York Buildings—I could compare to the Benilde campus and the School of Design and Arts at Taft Ave. in Manila. I interviewed a student to tell me about the coursework. It was mostly photoshop, printing, and story-telling. As for potential opportunities I could unlock with the network of students and professors at SVA? Nothing fantastic. When asked about it—or if he knew anyone that had successfully broken into the commercial photography industry in big ol' New York—he literally had nothing to share.
He biked from Brooklyn and did part-time work at a gallery as an assistant. I expected a more senior position to be quite frank. He told me to follow his Instagram Account so I can see things he's been working on—basically just stitched up and photoshopped images— which was quite similar to what my creative director back in Manila was doing for publishing. If this student was a customer testimonial for the school, it would've been a terrible example of one. I chuckled and realized that the whole thing was a sham, especially when he mentioned that the main focus was mostly on Photoshop Editing. You can read all about my thoughts on getting a photography degree here.
The program director who met with me, made it sound like the program taught students ground-breaking concepts and added the game-changing technologies being practiced in the Photography Industry, being cooked up by the institution. I took home a bag full of weird school-published materials, mainly the program director's name printed on the bylines. Well, let me tell you that it's all a bunch of bullshit. It's all smoke and mirror. No substance. The network was terrible, the subjects dull. I wasn't impressed at all. The value of an MBA or even a degree in a user experience track is by far a more fitting answer IMHO, to the demand for better customer experiences for many of the biggest global businesses and markets. While creativity will always remain a subjective topic, a framework/methodology will always be a starting point in delivering the best outcomes. Something that the SVA MFA program clearly doesn't offer. And if they do, they don't clearly emphasize it.
My hot take re: a graduate degree in the arts? Taking photography and the arts won't really have a significant impact on a successful career in the arts. This study shows that 9% of Americans with a master's degree only increased their employability by LESS than 3%. That isn't a pretty figure to look at. Unless the directors for undergraduate and graduate programs shift the curriculum to something more groundbreaking and impressive—schools offering photography degrees will soon chop these departments off their prospectus. It won't happen immediately but it will. I'm looking at you DLS-CSB!